To be a member of an officially sanctioned extracurricular organization in the student life of Texarkana College, an individual must be registered in good standing as a student in the college. Specific prerequisites for membership in an officially sanctioned organization, and for holding office in such a group, are determined by the constitution and by-laws of the group; those documents having been approved by the Dean of Students and Student Life and the Student Life Committee of Texarkana College. Copies of each organization's constitution are maintained in the Dean of Students Office.
Black Student Association (BSA)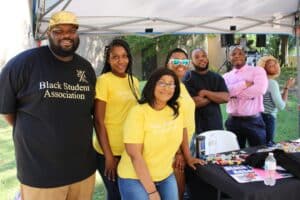 Are you looking for a supportive community that celebrates and encourages Black students? Join the Texarkana College Black Student Association and become a part of a vibrant organization! Our association is dedicated to promoting unity, leadership, and cultural awareness within the college and the surrounding community. Through engaging events, impactful initiatives, and educational opportunities, we strive to create a space where your voice is heard and your experiences are valued. Join us today and be a part of making a difference at Texarkana College Black Student Association!
Advisor: Robert Jones
Book Club
Are you a bookworm eager to discuss and discover new literary adventures? Join the Texarkana College Book Club and embark on a captivating journey of reading and dialogue! Our club provides a welcoming space for bibliophiles to share their thoughts, insights, and recommendations. From classic novels to contemporary bestsellers, we explore a wide range of genres and authors. Join us and be a part of a vibrant community that celebrates the magic of literature at Texarkana College Book Club!
Advisor: Emily Ransom
Cosmetology Club
Are you passionate about the art of beauty and styling? Join the Texarkana College Cosmetology Club and unleash your creativity! Our club is a haven for aspiring cosmetologists to learn, share, and perfect their skills. From workshops and tutorials to exciting hands-on projects, we offer a variety of opportunities to enhance your knowledge and expertise. Join us today and become a part of a supportive community that celebrates the artistry of cosmetology at Texarkana College Cosmetology Club!
Advisor: Shane Pentecost
FBLA Collegiate (Future Business Leaders of America)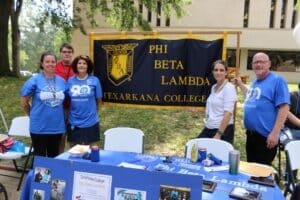 FBLA Collegiate is a state and national professional student organization that brings business and education together in a positive working relationship through innovative leadership and career development programs.
As a local chapter of FBLA Collegiate, we will promote business leadership, encourage computer usage and programming, teach and study computer and business skills, and expose the student body and the community to computers through college and FBLA Collegiate-sponsored events. As a member, a student will be able to compete in state and national competition events in the business and computer fields.
Advisor: Sam Rivas
Fine Arts Club
Are you passionate about art, music, or theater? Join the Texarkana College Fine Arts Club and unleash your creativity! Our club provides a platform for artists of all disciplines to collaborate, express themselves, and showcase their talents. From art exhibits and live performances to workshops and special events, we offer a wide range of opportunities to explore and expand your artistic abilities. Join us today and be a part of a vibrant community that celebrates the beauty of fine arts at Texarkana College Fine Arts Club!
Advisor: Dr. Mary Ellen Young
Gaming Club (TC-GC)
Calling all gamers! Join the Texarkana College Gaming Club and level up your gaming experience! Whether you're into console gaming, PC gaming, or tabletop games, our club is the perfect place to connect with fellow gaming enthusiasts. From competitive tournaments to casual gaming sessions, we offer a variety of fun and engaging activities for all types of gamers. Don't game alone – join the Texarkana College Gaming Club and experience gaming like never before!
Advisor: Gabriel Avila
Honors and Leadership Program
The Honors and Leadership Program at TC is designed to provide a unique opportunity for in-depth studies with a leadership emphasis. In addition, the student has close and frequent contact with instructors and with fellow students who have like interests.
The Honors and Leadership Program provides a forum for collegiality and opportunities for intellectual and personal growth; there is a special focus on leadership in the community. This program is designed for students who are in pursuit of an education, not simply a degree. Employers in our community have expressed their interest in graduates with leadership skills.
Applications open up in the spring semester and are available on the TC website or by contacting Mary Ellen Young at 903-823-3369.
Advisor: Dr. Mary Ellen Young
LGBTQ+ Club
Our club provides a supportive environment for LGBTQ+ students and friends to connect, educate, and encourage one another. From educational workshops and awareness campaigns to social events and community outreach, we strive to create a positive impact both on campus and beyond. Join us today and connect with the Texarkana College LGBTQ+ Club!
Advisors: Michelle Forgy and Danielle Forgy
Motorsports Club
Are you a motorsports enthusiast with a passion for adrenaline and speed? Join Texarkana College Motorsports Club for the ultimate thrill ride! Experience the excitement of being part of a team, racing against the clock in high-performance vehicles. Whether you're an experienced racer or a rookie looking to dive into the world of motorsports, our club offers a supportive environment for all levels of skill. Join us today and fuel your love for speed at Texarkana College Motorsports Club!
Advisor: Jake Balmain
Next Step College Ministry
The purpose of Next Step College Ministry is to: Assist students from Texarkana College to take their next step in their faith journey encouraging them to grow in their relationships with each other and with God.
Advisor: Bart Upchurch
Phi Theta Kappa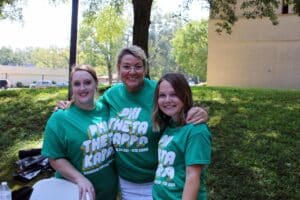 Zeta Sigma Chapter of Phi Theta Kappa International Honor Society, the honor society for two-year colleges, was chartered in May 1948. It recognizes and encourages scholarship among two-year college students and provides opportunities for the development of leadership and service, for an intellectual climate for exchange of ideas and ideals for lively fellowship for scholars, and for stimulation of interest in continuing academic excellence.
Phi Theta Kappa provides opportunities for individual growth and development through participation in honors, leadership, service, and fellowship programs.
Each semester, a faculty advisor and the registrar survey all available candidates and recommend for membership those students whose grade point average indicates superior scholastic achievement (GPA of 3.5 or higher on 15 hours of associate degree coursework) and who have demonstrated qualities of leadership and integrity and are pursuing an Associate or above degree.
Advisor: Dr. Mary Ellen Young
STEM Club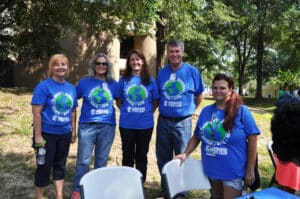 Are you fascinated by science, technology, engineering, and math? Join the Texarkana College STEM Club and dive into the exciting world of STEM! Our club offers a platform for students to explore hands-on projects, participate in STEM competitions, and engage in interactive discussions with like-minded individuals. Expand your knowledge, build valuable skills, and connect with professionals in the STEM field through our mentorship programs. Join us today and be a part of shaping the future through innovation at Texarkana College STEM Club!
Advisor: Dr. Catherine Howard
Student Government Association (SGA)
Do you have a passion for making a difference on campus? Join the Texarkana College Student Government Association and be a voice for the student body! As a member of SGA, you'll have the opportunity to represent your peers, initiate positive changes, and advocate for student needs. Whether you're interested in organizing events, addressing campus concerns, or collaborating with faculty and administration, SGA is the perfect platform to make your voice heard. Join us today and play a vital role in shaping Texarkana College for the better!
Advisor: Madeleine Russell
Student Nursing Association
Are you aspiring to be a skilled and compassionate nurse? Join the Texarkana College Student Nursing Association and enhance your nursing journey! Our association provides a platform for networking, learning, and fostering lifelong friendships with fellow nursing students. Gain access to valuable resources, mentorship programs, and hands-on clinical experiences that will prepare you for your future career in healthcare. Join our dedicated community of nursing students today and be a part of shaping the future of healthcare at Texarkana College Student Nursing Association!
Advisor: Lindsey West
Intramurals
Texarkana College offers intramural athletic programs. The intramural program may include basketball, volleyball, and soccer. Intramural sports are organized cooperatively through the C.O. Pinkerton Recreation Center and Student Activities.
Advisors: Dean of Students and Vicki Dodson
Free Speech Area
The area in the immediate vicinity around the clock tower is designated as the Free Speech Area. In case of inclement weather, an optional location will be assigned by the Director of Facility Services. An additional free speech area is located in the immediate area outside the old Nursing Building. Requests must be submitted to the Dean of Students twenty-four hours in advance of an event.
Assemblies
At the discretion of Administration, special assemblies may be announced. These assemblies will present programs of broad interest or of cultural value.